We have one female maltipoo ,6 weeks old ,can leave in about 6 more weeks .updated 07/29/09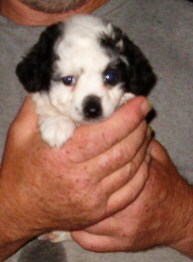 We have 1 male available,can go to new HOme NOW
updated 07-29-09 .Pictured here
Contact us
PRICES ...1000.00 Female plus delivery
1000.oo male plus delivery
We will deliver up to the 2nd to 3rd week of November ,then we will shut down deliveries until after the New year ...
Prices of any puppies Bought after the New year will be 1200 .00 plus delivery .
We do not have Christmas puppies ,please go to a rescue or pound and rescue a dog ,cat or bird or other animal if you want a Christmas pet ...
A good breeder most times will not sell anyone a puppy for Christmas . We ask that all of you not buy in a rush or spur of the moment and wait for your new pet when the time is really right ,then you will be more able to care for your pet and the pet will not end up in shelters after the first of the year .
Go to your nearest shelter and adopt today ....Thank you .
A great place to communicate is at facebook.
You can find our talk board there I Love Maltipoos or you can add me as a friend
Beyond Time Forum
Join us to talk about pets or /and if you are interested in the other side .
ATTENTION ...01-14-09 Maltipoo Club News !!!
To apply for one of the CLub rescues
please use the prelim contract at
Please tell us if you are interested in the rehome or one of the rescues .
call ...256-728-3323 ,please put rescue in subject line ..
Please be checking also with all your local pounds and shelters as with the economy as it is and it being after the Holidays (many buy because of 'cute or children want and then find they know nothing about having a dog or do not have the time ) and many will go to rescues because of it . So ,the next few months are busy and heartbreaking for animals .Remember a rescue dog ,cat ,bird needs you ....
Rehome female maltipoo
This female is in Boston area ,so if you are in the area and want a Maltipoo ...let us know ..